Refurbishments
Many people are starting to buy a house that is in a less than perfect condition as it is a great way to save money or to put your own stamp on a property without having to remove other people's hard work.
Taking on a property less than perfect can however be a challenge to people who need to employ a number of contractors to refurbish their property.  It can also be very expensive.
A number of our clients found this out the hard way and before working with us tried to source contractors themselves.  The way the construction world is today, there are a number of people who will state they have the experience and qualifications to fulfil your requirements and after spending out a lot of money, the work is less than satisfactory.  We have found this is an increasing problem for people and have had to correct a lot of work which has been done by people who have not been able to do the work properly.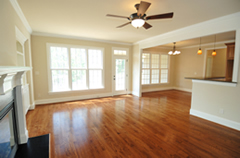 As many unqualified tradesmen are giving trained professionals a bad name, we have joined the Guild of Master Craftsmen.  The Guild has very strict criteria for allowing people to join and we are very proud of this achievement.  The Guild also perform reference checks before allowing companies to join and are so confident with the companies they authorise, they offer insurance backed guarantees.
Our team has many years experience and we have a tradesmen in every area.  If you have a refurbishment project you will only need to make one call – to us – and we will sort everything else out for you.
If you are refurbishing your own home, or have bought a house to refurbish as a project or to rent out, we will work with you from the start to ensure your budget is not exceeded.
We are working with many customers who are buying run-down houses to refurbish and rent out as a business.  On completion, we are given the keys, we attend the property to change the locks and price up the work that is required.  We then return to the customer and work with them from there.  Our team will attend the property and complete the works to suit your timescale and budget.
We regularly manage and run refurbishment projects for both private and commercial projects.  We can provide a complete service so you don't have the hassle of sourcing them independently.
As we have a team of experienced, skilled, accredited tradesmen, you can rest assured that your project will be finished to the highest of standards.
We have been involved in projects in and around London, the Home Counties, Cumbria, the Midlands, Lincolnshire, Newcastle and Wiltshire.  The standard and efficiency of our work calls us to places all over the country.
We are able to change the appearance of your property both inside and out helping to realise the full potential of the property, for living in or selling.  
We pride ourselves in meeting deadlines and budgets.
If you already have a team of workers working on your project but would like reassurance, we can also attend the site on your behalf and help guide you.
We have a 100% success rate with these projects and our customers who are making a living out of rentals always come back to us.  References are available on request.